The HAP Constitution directs that the National Executive may have a maximum of seven fixed positions, plus the addition of one nominated representative from each State or Territory Executive. At the moment there are six members on the National Executive.
Each State Executive must have at least three members, some of whom may also be members of the National Executive. At the moment there are State Secretaries in NSW, Victoria and Queensland.
This page will be updated as new members are appointed and when relevant CV's are supplied by existing members. Some members of the National and State Executives include (in alphabetical order):
Professor Kerry Bone: National President, Health Australia Party
Professor Kerry Bone
Professor Kerry Bone is the co-founder and innovation driver at MediHerb, where he serves as Director of Research and Development. In 2016 MediHerb was awarded the American Botanical Council's (ABC's) Varro E. Tyler Award for excellence in Phytomedicinal Research.
As part of his educational role, Kerry is Principal of the Australian College of Phytotherapy and also Adjunct Professor at New York Chiropractic College, providing input into their postgraduate applied nutrition program. He also founded the successful Masters of Health Science (Herbal Medicine) course at the University of New England in 2004, and served there as Associate Professor from 2004 to 2012.
Kerry is co-author of more than 30 scientific papers on herbal research, including original research and systematic reviews. He currently serves as the only Australian member of the editorial board of the journal Phytomedicine, the top herbal research journal in the world, and is also on the advisory board of the ABC.
He has also written or co-written six popular textbooks on herbal medicine, including his latest with Simon Mills, the long-awaited second edition of Principles and Practice of Phytotherapy, which was awarded the 2013 James A. Duke Excellence in Botanical Literature Award by the ABC. Other key texts include The Essential Guide to Herbal Safety (also awarded the James A Duke Award in 2006), A Clinical Guide to Blending Liquid Herbs and The Ultimate Herbal Compendium. These texts are widely used at naturopathic and medical colleges throughout the world.
He still maintains a busy herbal and naturopathic practice in Toowoomba, Queensland, where he has been in continuous service for more than 30 years.
In 2015 Kerry's lifelong contribution to the field of herbal medicine was recognised with his receiving the prestigious Lady Cilento award from the complementary medicine industry in Australia.
Dr Isaac Golden, National Secretary, Victorian State President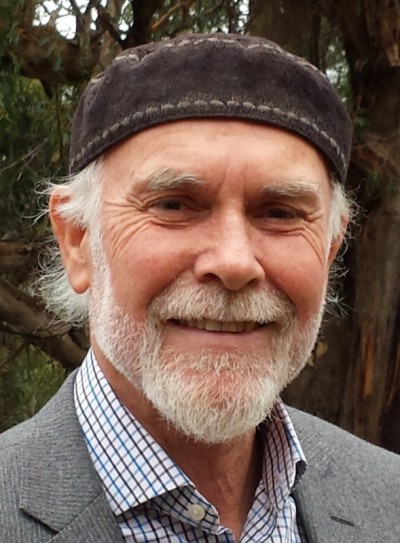 Dr Isaac Golden PhD
Following an early career in finance and financial accounting, Isaac changed career paths to natural medicine and has been a homoeopathic practitioner since 1984, and teaching since 1988. He founded the Australasian College of Hahnemannian Homoeopathy in 1990, which offers distance education courses in homoeopathic and natural medicine. Isaac is a regular contributor to local and international academic journals, and is the author of eleven books on homoeopathy and over 100 articles.
He has lectured in 9 countries. He is a world authority on homoeoprophylaxis – the use of homoeopathic medicines for specific infectious disease prevention – and was the first person to be awarded a PhD from a mainstream Australian University for research on a homoeopathic topic. He has undertaken immunisation research in Cuba and India in conjunction with Government authorities in those countries. In April 2016 he was invited by the government Department of AYUSH to visit India to advise on planned Dengue Fever immunisation programs in Delhi and Kerala State involving millions of people.
He worked in a range of positions with Endeavour College of Natural Health, including Head of School and Business Manager Academic until 2012. He was an Honorary Research Fellow, Faculty of Science, Federation University Australia from 2013 to 2016. He is presently Research Advisor on the Ethics Committee of the National Institute of Integrative Medicine, and is a peer reviewer for a number of Australian and international professional journals.
Isaac was President of the Victorian branch of the Australian Homoeopathic Association – Australia's largest national organization of professional homoeopaths – from 1992 to 1998. In March 1999 he was awarded the Association's Distinguished Service Award for his "many years of service to the Australian Homoeopathic Association and for his significant contributions to the homoeopathic profession in Australia".
Isaac's research interests are built on a belief that Australians need to be shown the substantial evidence base of natural medicines and see how safe and cost-effective they can be. His own work relates mainly to showing the effectiveness of homeopathic medicines for both treatment and disease prevention. He believes that the health system in Australia needs to be changed from the present disease management system to a health creation system.
Andrew Hicks: Registered Officer, Victorian State Secretary
Andrew Hicks BAppScPhys, BEngComm
Andrew has been involved in the Audio Visual and Video Conferencing industry for over 20 years. He currently owns and operates a specialist consulting firm with headquarters in Melbourne and operating in Canberra and Sydney. He has a Bachelor of Applied Science (Applied Physics) and a Bachelor of Engineering (Communications). In addition, he also holds a qualifications from InfoComm International as a Certified Technology Specialist – Design.
Since a young age, Andrew has always been involved in learning and working outside of the typical education institution. His work in video, sound and lighting production lead to a focus on meeting customers' needs, regardless of the individual situation. Technical bachelor degrees in science and engineering further developed a scientific approach and methodology to analysing any situation.
After University, his work lead him to a large national Audio Visual integrator, working on multi‑million dollar projects in various roles. In 2011, Andrew co‑founded Parity Technology Consulting to provide a specialist service that was lacking in the AV industry. The business has grown significantly with many clients ranging across Universities, Corporate and Government sectors. The reputation of the business is highly regarded, also winning a national award for a Government project.
With such a combination of client focus, project delivery and consultation services, Andrew has developed a skill set which can be applied to almost any situation, industry or role. The consultative approach combined with science and engineering allows in depth analysis of any problem, enabling the core issue to be established.
Andrew has a keen interest in holistic health, combining both natural medicine and western medicine. The two can work hand in hand to ensure the optimal health care for people, with their best interests truly at heart. Environmental and democratic aspects are also particularly important factors when looking at our society.
After watching the current and previous Governments, legislation, politics and widespread misinformation, Andrew decided to take a stand to make a difference in our country. The Health Australia Party has a solid, logical and balanced approach to the many aspects of life in Australia, as demonstrated by the five fundamentals of the party.
Marg Winning: Queensland State Secretary
Marg Winning: Queensland State Secretary
My parents were hardworking Queensland farmers, my happy childhood was mostly spent living and working on a farm and selling fresh produce.
During my working life prior to children I worked at a printery, signwriting shop, graphic arts studio and newspaper house. I married in my mid-twenties and when pregnant with my first child I became a member of the Nursing Mothers' Association. Soon after joining, I trained becoming a councillor, providing weekly meetings, offering support and information to mothers in the local area.
My maternal instincts were strong, I considered everything to do with my babies health, happiness and development. Breastfeeding was very important to me as I have been an asthmatic since a young child. I was determined to make sure each of my children had healthy immunity, so I am proud to say I breastfed each of my children for up to two years, a total of ten years, and no asthma.
As my children started kindergarten and school I then became involved as a classroom helper. I joined the Parents' Association and School Council, taking on different committee roles including Fete coordinator and at one point, President.
Life was very busy with five children, at one stage, I had one at High School, two at Primary School, one at kindy and a baby at home, 'mums taxi' was always on the go.
I have a great love of art and craft including graphic design. Over the following years I developed my skills and took a number of night Tafe courses. I started a small home business, making and selling craft, graphic design, desktop publishing and printing service. Being able to stay at home until all my children went to school was really important to me.
My involvement as a volunteer led to employment, where I worked in admin and produced the weekly school newsletter. Later, at our children's high school I became the schools photographer, marketing and promotions person and also produced the annual year book.
I have always had an interest in natural remedies, healthy living and all things creative/artistic, and have shared these with my children.
I am a self taught graphic designer, a mother of five, I've been a parent for 27+ years and I understand many of the challenges that parents face.
I am keen to ensure the Australian Government respects and listens to the people. That our rights are not eroded by laws that are mandated, because this goes against our fundamental human rights. Every Australian must have the freedom to choose, to stand for each individuals rights, so we can truly be a democratic and prosperous nation.
Our planet is our one and only home, mother earth has provided everything we need and our children are the future. I've joined the Health Australia Party because they stand for the health of our environment, the health of our people and the health of our future. Support us, so we can support you.
A small group of determined and like-minded people can change the course of history. Mahatma Gandhi
Emily Wallis - WA State Secretary
Emily Wallis
Emily Wallis, is a bookkeeper, trained as a veterinary nurse, and is passionate about issues including health, animal welfare, pollution of soil, air and water including our oceans. She grew up on a small farm where her father had a true 'free range' poultry farm. In the 60's caged farming was introduced, unfortunately her father could not compete and he sold his farm soon after. Ironically, the system has done a complete turn-around, back to the original approach of free range/pastured poultry farming as it is more ethical.
The increased medication, risk of disease outbreaks and prepared food (often containing GMO grains) fed to the chickens together with the confined living space is not healthy for the chickens or for us.
A key interest of Emily's is her concern about the introduction of genetically engineered (GE) or genetically manipulated (GM) foods coming into and being grown in Australia. She volunteers for the GM-Free Australia Alliance, with a focus on the need for full and comprehensive labelling of all GM ingredients in all our food products.
In support of Healthy People, Emily believes that everybody has a right to choose an allopathic or a more natural approach to medical interventions, and citizens must be allowed to choose without discrimination. This includes ensuring that our drinking water is free from unnecessary additives and supporting the use of medicinal cannabis.
As a small business owner herself, Emily understands that small businesses are vital institutions providing much of the employment in Australia, and they must be encouraged and supported with a fair tax system.
In addition, Emily supports resource conservation through non‑polluting renewable energies, supporting our indigenous people through a holistic approach to their health care and the protection of whistle‑blowers to expose any corruption in the corporate industry and political arena.
Emily fully supports all of the five pillars of the Health Australia Party; Healthy People, Healthy Economy, Healthy Environment, Healthy Democracy and a Healthy Society to help deal with the issues facing our Australian community.
Teddy Craies - WA Executive
TEDDY CRAIES
Teddy Craies  MIM, FIMCA
Teddy is an engineer, a business manager and a wellness consultant.  He has worked in Australia and globally within the mining related industries for over 30 years in business management and development. In addition to running his own wellness coaching and consulting business since 2010, he also runs his own business development, sales and marketing consulting business, working with small business in Australia, Europe and Asia to help them open new markets and improve their business performance.
Teddy is a "Fellow of the International Management Centres Association, UK" and a founding member of "Chartered Institute of Purchasing & Supply Australia".  He strongly supports and runs community activities and events to support families and empower them with skills and tools to build resilience to manage stress, work life balance and wellness advice.  Teddy fully supports the five pillars of the Health Australia Party; Healthy People, Healthy Economy, Healthy Environment, Healthy Democracy and a Healthy Society to help deal with the issues facing our Australian community.
Teddy is passionate about Australia, this beautiful country of ours and our community of families, men, women and children of all cultures, beliefs and lifestyles, who live in harmony, work and contribute in the best interest of each other and Australia. We are a free country that believes in a democratic system and we all need to stand up for our rights to live a sustainable life in happiness and good health. We should all have access to all the essential ingredients to live our lives such as; food, shelter, education, medical care, transportation, infrastructure, jobs, aged care, family support facilities, our land and agricultural, the security of our country and people and care of our environment.
Teddy is passionate about ensuring our seniors and retirees are treated with respect and supported with a quality pension system and quality services to enable them to live in good health and harmony with all the required essentials for a quality life.
It was Henry Ford who said, "Coming together is the beginning. Keeping together is progress. Working together is success."  Teddy believes that the 5 pillars of Health Australia Party can pave the way to bring us together, and work to improve the lives of all Australians, our economy, our environment, our society and our way of living.